Mayor of Dunedin and his Delegation Visited SJTU
November 09, 2018 Author: Liu Dandan
On November 9th, Dave Cull, Mayor of Dunedin, Chris Stayne, Deputy Mayor, Zhang Hui, Chinese Project Manager of the Municipal Government, Jason Cushen, Director of International Office of University of Otago, Xu Dingyi, Principal Consultant of Chinese Affairs of Otago Business School and Vice Chairman of Shanghai Jiao Tong University New Zealand Alumni Association, and He Xiao, Project Manager of Otago Business School in China visited SJTU. Zhou Cheng, Deputy Secretary of the CPC of SJTU and Secretary of SJTU Commission for Discipline Inspection, Liu Muqun, Chief Economist and Dean of Overseas Education College met with the distinguished guests.
Zhou Cheng expressed warm welcome to Dave Cull and his delegation. They reviewed the cooperation between the two parties. He said that the first China International Import Expo showed China's openness and inclusiveness, and SJTU would also contribute to the openness and internationalization based on the cooperation of both parties.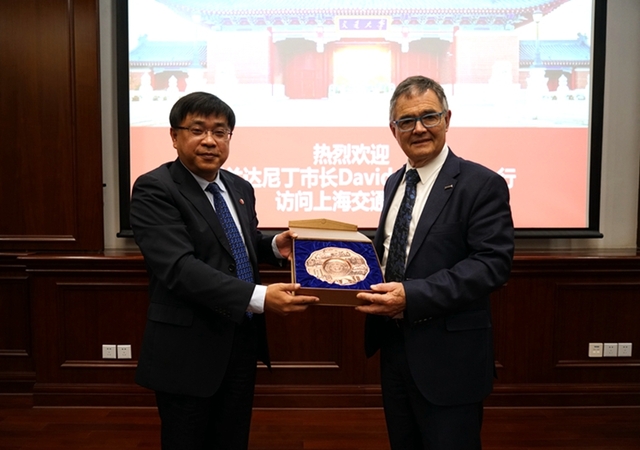 Dave Cull said that Dunedin and Shanghai are twin cities and has forged a profound friendship through the cooperation with Shanghai. He highly praised the cooperation between University of Otago and SJTU, and sincerely hoped that both universities can carry out deeper and all-round cooperation in the academic circles and the industry based on the principle of mutual benefit and win-win result.
Liu Muqun pointed out that Overseas Education College would continue to give full play to its own advantages and provide "Jiao Tong Wisdom and International Model" for universities in terms of social services, and implement the strategic goal of "Double-First Class Construction".
Jason Cushen said that with the help of the Overseas Education College, the DBA project of the University of Otago had attracted more and more entrepreneurs and offered more space for further cooperation and development between the two universities and the two cities.
Translated by Huang Yiqing Reviewed by Wang Bingyu