SJTU, NVIDIA signed Memorandum on AI Calculation
November 21, 2018 Author: Zhou Jia
On November 19th, Shanghai Jiao Tong University (SJTU) and NVIDIA signed the memorandum on artificial intelligence calculation at the Meeting hall of Shanghai Jiao Tong University Library on Minhang Campus. SJTU Vice President Xi Lifeng, Vice President of NVIDIA Marc Hamilton, Director of Network and Information Center of SJTU Guan Haibing, Professor Qi Zhengwei of School of Software, Associate Professor Jiang Li of SJTU Artificial Intelligence Institute, and NVIDIA China Education and Research Director Yuan Yongqing attended the ceremony.
Xi Lifeng and Marc Hamilton expected that both parties could rely on the artificial intelligence calculation platform which the Network and Information Center was working on, and carried out the in-depth cooperation in the fields such as artificial intelligence calculation and GPU virtualization. They signed a memorandum on artificial intelligence calculation on behalf of both parties. And then Marc Hamilton gave a keynote speech on the latest developments of NVIDIA in artificial intelligence, in-depth study, high performance computing and GPU virtualization.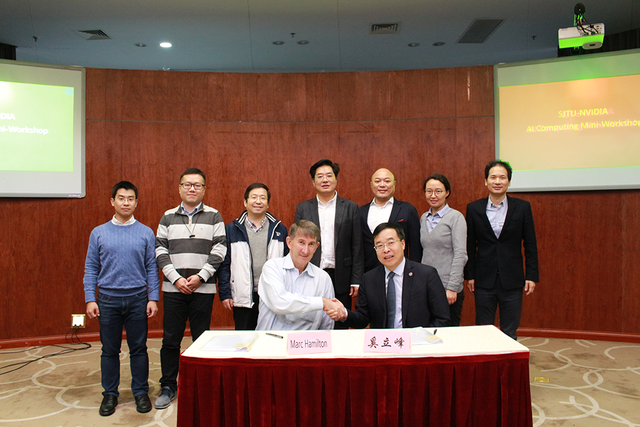 SJTU has always attached great importance to the development and construction of artificial intelligence, and the cooperation with NVIDIA will promote the application of artificial intelligence and also empower the field of education and scientific research.
Translated by Huang Yiqing Reviewed by Wang Bingyu