"Art, Culture and Chinese Characters" Lecture by Prof. Zhou Bin was Held
November 10, 2018
On the morning of November 10th, 2018 (EST), upon the invitation of the New York University Steinhardt School of Culture, Education and Human Development, Professor Zhou Bin delivered a lecture on teaching Chinese calligraphy as part of art and culture-oriented Chinese language education for international students. Lecture attendees included postgraduates from New York University (NYU), Chinses language teachers in the US, and the experts and scholars from the United Nations, Yale University, Columbia University and Parsons School of Design. Mr. Zhou is currently Professor and Doctoral Advisor of USC-SJTU Institute of Cultural and Creative Industry, and Director of Chinese Calligraphy Culture Education and Communication Center. Robin Harvey, Director of NYU's Project for Developing Chinese Language Teachers, introduced Professor Zhou to the audience. Roy Ye of Junior United Nations of Calligraphy, on behalf of Professor Zhou, presented to Ms. Harvey as a gift a set of books on the culture of Chinese calligraphy, titled Seasonal Weather with Gentle Breeze and Timely Rain - Four Seasons. The books, of which Professor Zhou is the Editor-in-Chief and Roy Ye the Deputy Editor-in-Chief, will be educational materials for postgraduates at the university. Dr. Frank Lixing Tang, a senior professor at NYU, made a detailed introduction on Professor Zhou's work on cross-culture research, which sparked great enthusiasm in the audience.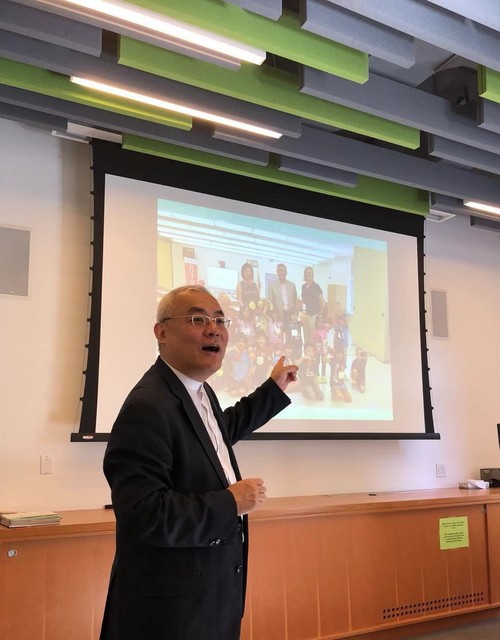 Once a visiting scholar under Dr. Tang at NYU, Professor Zhou later on became the calligraphy teacher of Mr. Ban Ki-moon, former Secretary-General of the United Nations. Over the years, Professor Zhou has been promoting Chinese culture internationally through Chinese calligraphy. Facilitated by his knowledge of cross-cultural psychology, he has enhanced cultural exchange between the East and the West through Chinese calligraphy.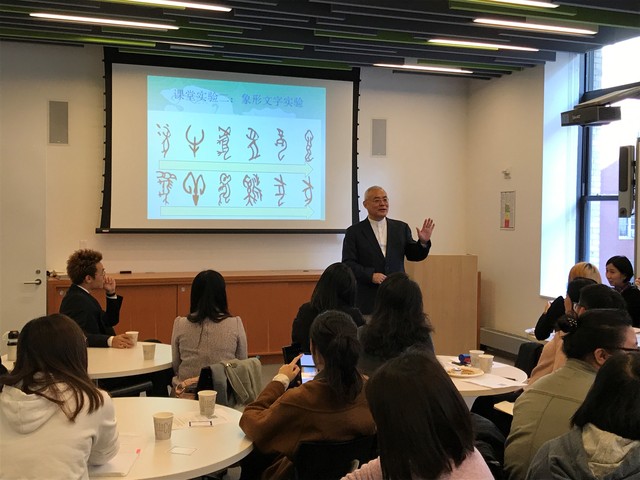 In this lecture themed "Art, Culture and Chinese Characters", Professor Zhou elaborated on the art of Chinese characters and Chinese language education, and presented the richness of Chinese culture to the audience in easy language.
"Chinese calligraphy is not only an art of writing, but also an art to express fine feelings with beautiful lines; and as a cultural concept, it needs to stay in tune with the times. That's the only way for it be to widely accepted around the world." Professor Zhou illustrated his point by referring to his new books, Seasonal Weather with Gentle Breeze and Timely Rain - Four Seasons, "A good cross-cultural course book for international students must contain broad information and cover diverse cultural values. The author creates a pleasant experience for learners to acquire cultural knowledge and elevate to a higher spiritual level without their deliberately seeking it..." Professor Zhou condensed five years' teaching experience in various countries and his research results on cross-cultural psychology into this set of books. As commented by Mr. Ban Ki-moon, former Secretary-General of the UN and Chairman of the Boao Forum for Asia, "Seasonal Weather with Gentle Breeze and Timely Rain by Professor Zhou are valuable books that inspire people around the world to learn calligraphy and cultures."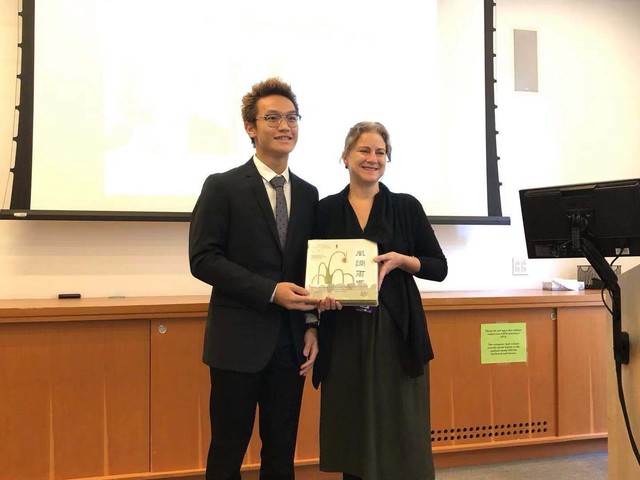 "A person's writing reflects his personality." In the lecture, Professor Zhou analyzed personalities and temperaments reflected by different writing styles from a psychological point of view. He also suggested tailoring cross-cultural education for students with different characters to effect accurate cultural communication and interaction, to which experts at the lecture unanimously agreed. Moreover, Professor Zhou's witty explanations of difficult concepts made the whole lecture very enjoyable.
At the end of the lecture, Professor YU Erke, a renowned calligrapher based in the US, delivered his unique perspectives, "This fabulous cross-cultural lecture broke down cultural and geographical barriers. Professor Zhou has made admirable achievements in his cross-cultural and interdisciplinary work. We have reasons to believe that those achievements will push back the frontiers of Chinese calligraphy which will play a more significant role in the teaching of Chinese and promotion of Chinese culture internationally."
Source: USC-SJTU Institute of Cultural and Creative Industry