Joint exhibition of Chinese and Western artists' works by ICCI Art Valley
November 30, 2018 Author: Yikun LIU/ Wu HU
Somewhere in Time by ICCI Art Valley, a joint exhibition of Chinese and Western artists' works launches the opening ceremony at Shanghai Gallery.
The presented works in the joint exhibition include works from eleven western resident artists who are currently stationed in Shanghai Jiao Tong University for 30 days, and also works from invited Chinese artists.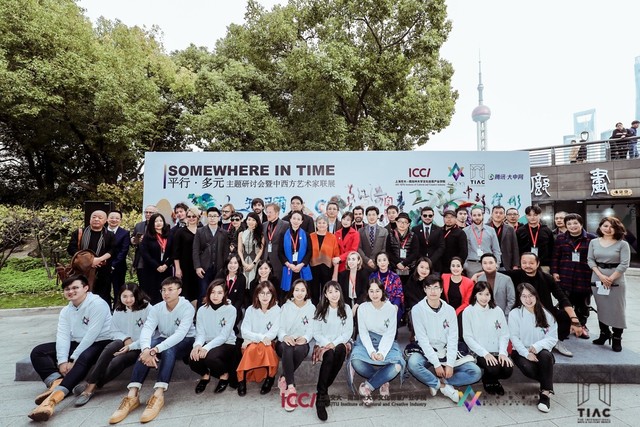 If you are seeking enlightenment on the expression of diversity and creativity in the parallel world, then this very first 2018 international artist residency program slash the joint exhibition of Chinese and western artists Somewhere in Time may shed some light on your pursuit.
On the afternoon of November 30, Somewhere in Time, the joint exhibition hosted by ICCI Art Valley, co-organized by TIAC, unveiled its opening ceremony with the participating western artists and invited Chinese artists.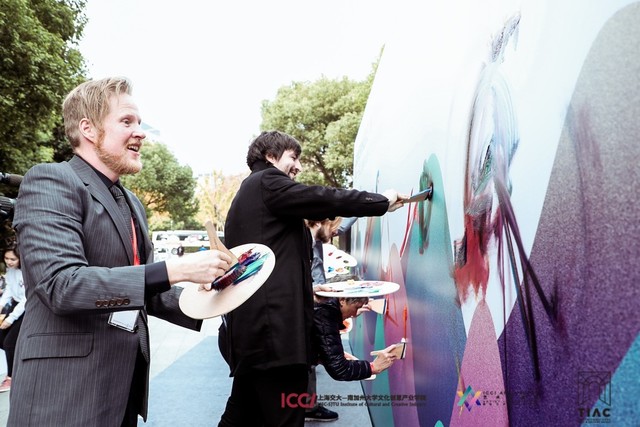 Nearly 120 guests include artists from China and abroad, curators, collectors, students and faculties from higher educational institutions of Shanghai attended the opening ceremony and the following exhibition. The event was also followed by a seminar focused on the heated topics such as "the value of contemporary art to society" and "whether artificial intelligence can replace artistic creation".
30 days on site-Chinse art joins hands with Western art Somewhere in Time
In the joint exhibition of Somewhere in Time, about 70 pieces of artworks are from the resident western artists of Shanghai Jiao Tong University, which are recently created thanks to the inspiration and enlightenment from their surroundings. There are also about 40 pieces of Chinese ink artworks from the invited 12 Chinese artists. As a result, Somewhere in Time fosters an interplay between the Chinese art and the Western art, which illuminates with the glare of diversity derived from various cultural and social backgrounds.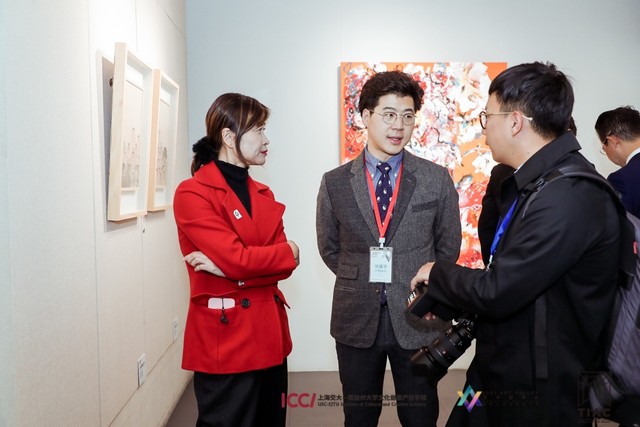 Zhenyu XU, project consultant of this joint exhibition by ICCI Art Valley expressed that, this exhibition has showcased an exceptional art feast to the visitors as it encompasses a variety of artistic subjects and techniques, some of which focus on abstractionism and re-construction of natural forms; some of which taps into the integration of traditional artistic craftsmanship and modern consciousness; and some of which emphasizes on the mixed use of materials and colors to present an interlaced space between the "artificial" world and the "imitation of nature".
A high-end art discourse with profound involvement from the reputational art institutions from home and abroad
Faye WU, head of this 2018 international artist residency project and the professor of the Institute of Cultural and Creative Industry (ICCI) of Shanghai Jiao Tong University, said that aiming to highlight the features of ICCI, the project has spent significant time on planning, preparing organizing and screening talents with overseas art colleges and institutions from the very beginning; and it is after serious deliberation, the project has eventually decided on 11 artists for the one-month residency program, among whom there are reputational artists but also promising artists, respectively from Britain, Spain, Italy, Portugal, Austria, Iceland and other countries.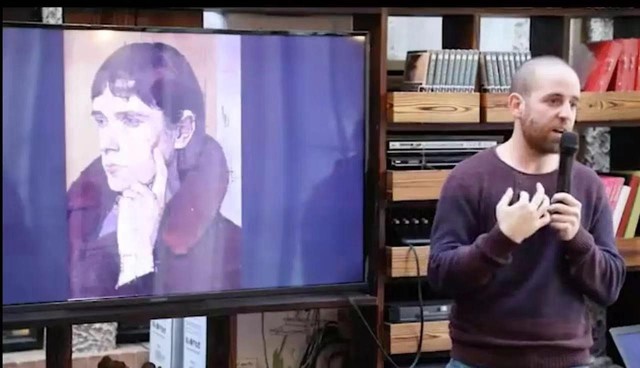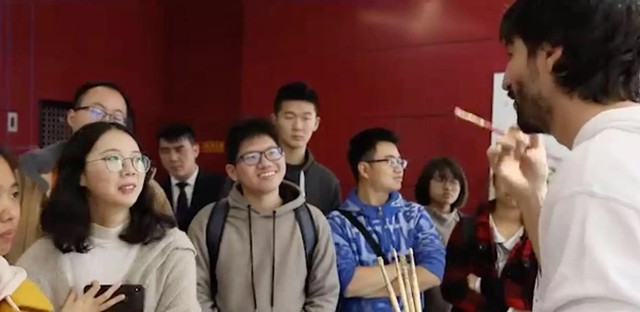 For the resident artists, aside from routine artist work in the studios, they are also invited to a series of designed activities featuring on the Chinese societal and humanistic value. By now, the artists have exchanged views with the public on the studio open day; they have sketched cultural landmarks including Fuzhou Road, Wuyi Road, Zhujiajiao and Xuhui District and other sites of Shanghai; they have shared expertise with curators of West Bund Museum, Hao Art Museum, art institutions, art studios, etc.; they have also conducted online and offline workshops and lectures cooperating with Shanghai cultural enterprises and platforms.
Carlos Sebastia, the coordinator of this residency program and also an artist himself from Spain expressed in the opening ceremony that he was "dazzled " by ICCI, with its noteworthy artistic and cultural atmosphere and innovative notion of art education. He praised the profound artistic and cultural atmosphere boasted by Shanghai Jiao Tong University and the high degree of internationalization at ICCI, and also the continuing interaction with the cultural industry. He expects that more western artists can be given the opportunity to learn from and contribute to this international art stage.
ICCI Art Valley of Shanghai Jiao Tong University unveils an innovative mode of Chinese Art Education.
Founded three years ago, USC-SJTU Institute of Cultural and Creative Industry has devoted to nurture the multi-talented leadership that focus on "innovation, entrepreneurship and creativity" while adheres to the talent development principle of "internationalization, interdisciplinary, industry-oriented". The "ICCI Art Valley" project, created by ICCI, aims to revolutionize talent development in higher art institute education, to promote the communication and exchange between Chinese and Western artists, to improve the public artistic literacy, and to eventually construct an ecological circle featuring the integration of art education and culture industry. ICCI will continuously devote itself to build an international reputation in the field of art education and art exchange via a variety of activities and projects, including international artists residency program (ranging from 1-2 times every year), online and offline art classes and exhibitions.
Zhang Weimin, chief curator of the joint exhibition, also dean and general secretary of CPC of ICCI delivered a speech at the opening ceremony, in which, he pointed out that art education has been making progress with the constant reform but is still facing a variety of setbacks, and ICCI attempts to reform the higher art education from a unique culture and industry perspective. After raising funds and gathering resources from all possible aspects, ICCI builds a one-and-only art space on the first floor of ICCI building for the usage of "ICCI Art Valley" project, where resident artists, rising college students, Chinese artists and art enthusiasts bath in the diverse culture, the exchanges of various expertise and the fresh perspectives. It suggests an innovative mode of talent development in higher art education but also indicates the devotion to the development of rising artists.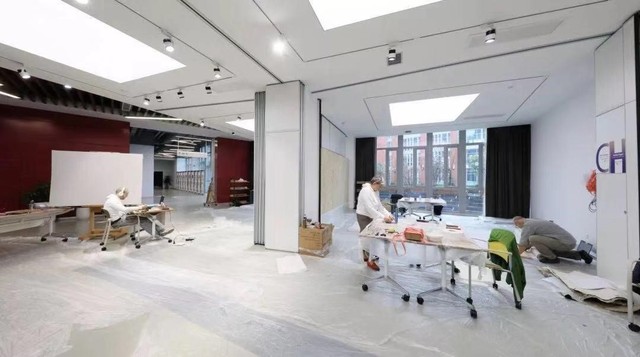 ICCI Art Valley is set up at the Zizhu Teaching and Research Base of ICCI. ICCI, located at the buildings of A7-A8, Zizhu International Education Park, 155 Tanjiatang Road, Minhang District (near Minhang Campus of Jiao Tong University), covers an area of about 8,000 square meters. Zizhu International Education Park is well equipped with fine restaurants and apartments. ICCI Gallery, located on the first floor of ICCI building, covers an area about 500 square meters, in which, eight rooms are set up as convertible spaces, serving as studios and exhibition sites.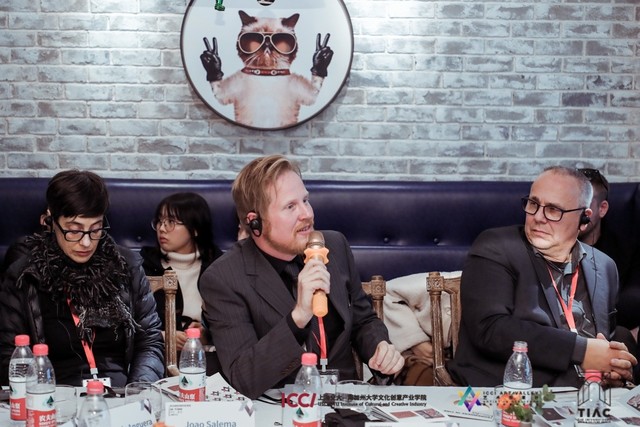 The artists also participated in an academic seminar on Chinese and Western art after attending the opening ceremony, and the seminar was presided by Min LING, an associate professor of Shanghai University. The artists not only exchanged their views on their art works and art theories, but also deliberated on a few contemporary heated topics. All the participating artists contributed to and benefited from this seminar, in which, various views are exchanged and fresh perspectives are raised.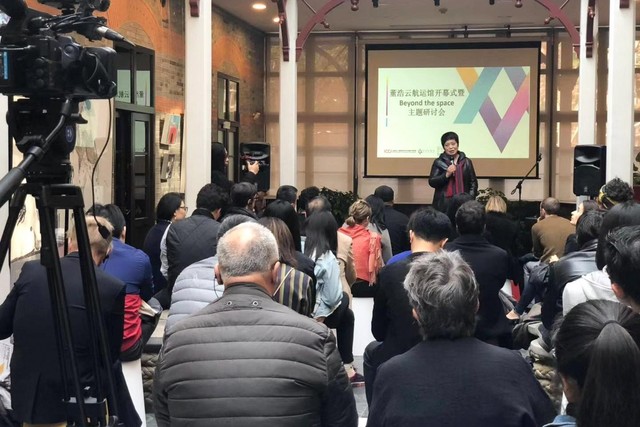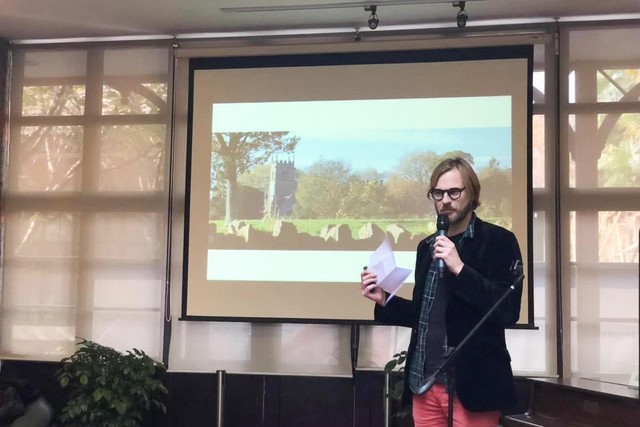 On December 1, Somewhere in Time, the joint exhibition of Chinese and Western artists by ICCI Art Valley made the debut at C.Y.TUNG Maritime Museum, Xuhui Campus, Shanghai Jiao Tong University. A seminar featuring Beyond the Space was also held on the same day, during which, Chinese and Western artists, art practitioners and guests contributed to an inspirational cultural feast from multiple perspectives and different angles.