Fraunhofer Project Center for Smart Manufacturing at SJTU established in Lingang
March 28, 2019 Author: Chen Miao, Wang Hao
On the afternoon of March 26th, Shanghai Jiao Tong University and Fraunhofer-Gesellschaft Society had jointly established a project center for smart manufacturing in Lingang, Shanghai. The signing ceremony marked the formal establishment of China's first Fraunhofer project center. The Fraunhofer Project Center for Smart Manufacturing at SJTU (hereinafter referred to as "project center"), officially approved by the Fraunhofer Society, is the 1st Fraunhofer Society research institute in China and the 10th across the world.
Over 100 people attended the ceremony, including SJTU President Lin Zhongqin, Thomas Bauernhansl, Director of the Fraunhofer Institute for Manufacturing Engineering and Automation, leaders of Chinese and Germany authoritative organizations and enterprises specialized in smart manufacturing, and professors and students also specialized in this field. SJTU Vice President Xi Lifeng hosted the ceremony.
Thomas Bauernhansl said that both parties had made great efforts to promote Sino-German exchanges in scientific research and culture, which had laid a solid foundation for future cooperation.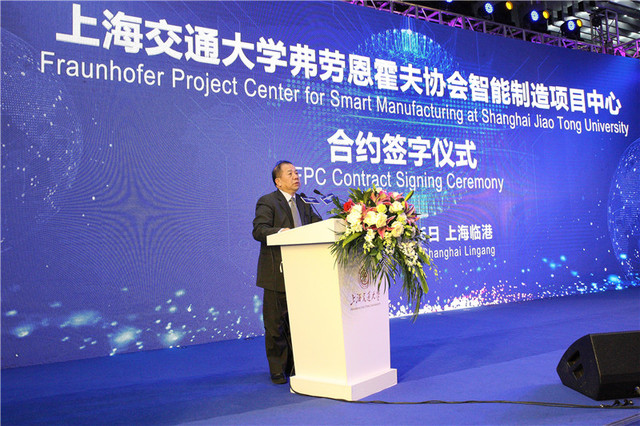 Lin Zhongqin said that establishment of the project center not only affirmed the achievements made in building a functional smart manufacturing platform for R&D and application, but also marked the remarkable advancement in the building of Shanghai Technology Innovation Center.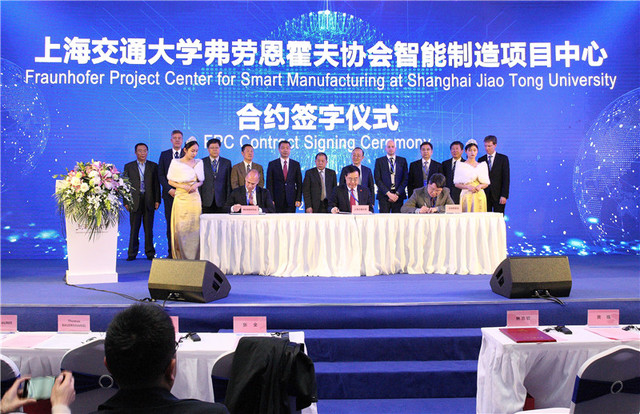 Xi Lifeng, Thomas Bauernhansl and Wu Xiaohua, on behalf of SJTU, Fraunhofer-Gesellschaft Society, and the Development and Construction Committee of Lingang, Shanghai, signed the formal contract between SJTU and Fraunhofer Project Center for Smart Manufacturing. The project center was inaugurated by Lin Zhongqin, Thomas Bauernhansl and others.
As a research center backed up by the 4th generation of the Germany industry and the China's smart manufacturing industry, the project center will facilitate the process of turning Lingang into an international smart manufacturing center and turning Shanghai into an internationally influential technology innovation center.
Translated by Liu Yixuan Reviewed by Wang Bingyu