School of Agriculture and Biology Celebrated Its 60th Anniversary
May 20, 2019 Author: Zhang Qing, Wei Jiani
On May 18th, the 60th Anniversary Celebration of SJTU's School of Agriculture and Biology was held in Jingjing Hall. Leaderships of different levels, guests from various sectors, alumni, and teachers and students from the school gathered here to witness its new starting point. Jiang Sixian, SJTU Party Committee Secretary, Ding Kuiling, member of Chinese Academy of Sciences, member of SJTU Standing Party Committee and Executive Vice President and other university leaderships attended the meeting. Other attendees also include representatives from other institutions, people of charge from various departments and schools, retired teacher representatives of the School, and more than a thousand alumni, teachers and students.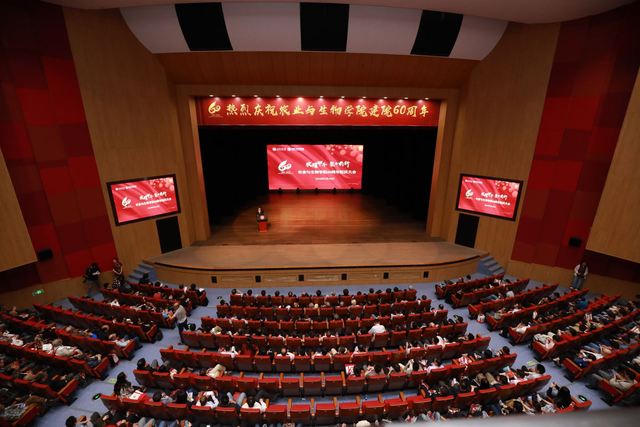 President Jiang Sixian delivered a speech at the beginning of the celebration. On behalf of the University, he expressed his heartfelt thanks to people from all walks of life who have given long-term attention and support to the development of School of Agriculture and Biology. He hopes that all the teachers and students of the School can take "the 70th anniversary of the founding of the People's Republic of China and the 60th anniversary of the founding of the School of Agriculture and Biology" as an opportunity to work closer to build a world-class school of agricultural sciences.
Xue Hongwei, Dean of the School of Agriculture and Biology, gave a report on the School's current situation. He introduced the school's history, its status of development, the excellent talent training program, the output of scientific research results and the school's new journey to come.
Subsequently, Vice Minister of US Agriculture Department, Ren Zhushan, made a speech on behalf of overseas institutions. He approved of the School's achievement made in international schooling. After that, Xu Zhihong, member of the Chinese Academy of Sciences and former president of Peking University, delivered a speech on behalf of other universities.
Alumni representative He Qiang, a 2013 Ph.D. graduate of the Ecology Department spoke at the celebration. And student representative Xu Tongzhou, a 2015 undergraduate majoring in food science and engineering, extended his heartfelt wishes to the School .
During the celebration, SJTU and Shanghai Agricultural and Rural Committee signed a comprehensive framework agreement for strategic cooperation.
Alumni designed and raised funds for the stone carved with the school name. And Dean Xue Hongwei and alumni representatives unveiled it.
Zhou Pei, Secretary of the School Party Committee, said that the students and faculty will inherit the spirit of predecessors, shoulder the responsibilities, and strive to achieve the goal of building a first-class school of agricultural sciences.
The SJTU Faculty Chorus presented their performance, singing the song "Me and My Motherland" to celebrate the motherland's 70th birthday. Finally, the celebration came to an end in the singing of "Shanghai Jiao Tong University School Song".
Translated by Chen Qianqian Reviewed by Wang Bingyu