Deputy Vice-Chancellor of the University of Western Australia Visited SJTU
On the afternoon of November 1, 2019, SJTU Vice President Xu Xuemin met a delegation from the University of Western Australia (UWA), which was led by UWA Deputy Vice-Chancellor Tayyeb Shah. Professor Liu Yinong, Associate Dean International of Engineering and Mathematical Sciences, UWA, also attended the meeting.
Tayyeb Shah has visited SJTU for several times. He hoped to take this opportunity to further promote the future cooperation and development between the two universities.
Xu Xuemin extended warm welcome to the delegation. She hoped that the cooperation between the two sides could be extended from the medical field to other areas, and the number of exchange students could be increased. Xu Xuemen also introduced SJTU's scientific intern program, hoping to promote scientific research cooperation and students exchange through the program. In addition, Xu invited UWA students to participate in the clinical internship programs held by SJTU affiliated hospitals.
Then, respectively on behalf of UWA and SJTU, Tayyeb Shah and Xu Xuemin renewed the Memorandum of Understanding and Student Exchange Agreement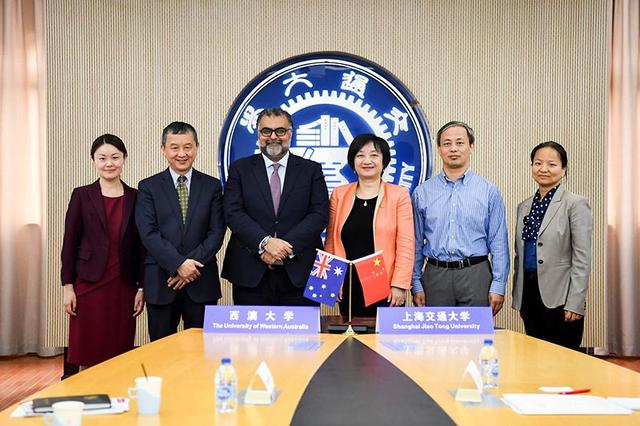 The delegation also visited SJTU School of Medicine and met students who have attended the cooperation program.
Translated by Liu Yixuan
Reviewed by Wang Bingyu