CEO of the Rhodes Trust Visited SJTU
On September 18th, a delegation led by Dr Elizabeth Kiss, new CEO and Warden of Rhodes House, visited SJTU. Chairperson of the University Council Jiang Sixian, Vice President Xu Xuemin, as well as staff from International Affairs Division and Student Affairs Steering Committee met with the guests.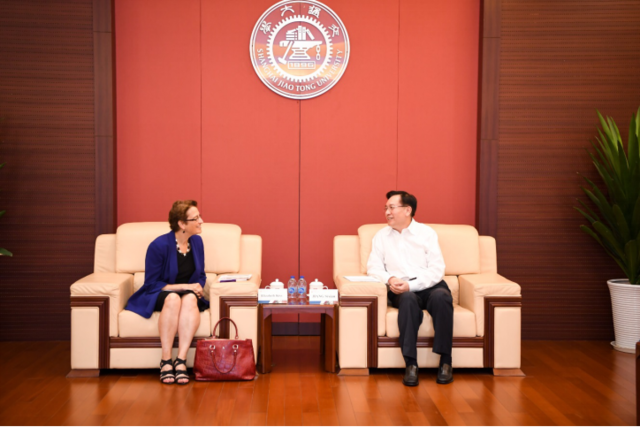 Jian Sixian firstly extended a warm welcome to the delegation. He said that equipping talents with both international vision and patriotism has always been SJTU's priority. In recent years, the school has actively recommended students to international organizations for internships and the proportion of students studying overseas has steadily increased. Jiang hoped to further strengthen cooperation with Rhodes Trust in the future.
Elizabeth Kiss said that the number of scholarships for Chinese scholars would be increased in the coming years and hoped more students from SJTU to apply for Rhodes Scholarship.
Founded at Oxford University in 1903, Rhodes Scholarship is the oldest and perhaps most prestigious international scholarship program. From 2015, Rhodes Scholarships is available for Chinese scholars and by far there are16 Chinese Rhodes Scholars in total. SJTU winners include Miao Xiao from KoGuan School of Law, and Zhao Jiaxin from the School of Mechanical Engineering.
Translated by Liu Yixuan
Reviewed by Wang Bingyu