Shanghai Jiao Tong University Held Commencement 2020 Today
July 12, 2020
On July 12, Shanghai Jiao Tong University Commencement 2020 was held at Hu Faguang Stadium at Minhang Campus, with more than 3,000 graduates attending the ceremony. On the Commencement, Yang Zhenbin, Secretary of the Party Committee of Shanghai Jiao Tong University, and Lin Zhongqin, President and Deputy Secretary of the Party Committee of Shanghai Jiao Tong University and CAE Academician, sent their wishes to 2020 SJTU graduates. B.S. graduate Huang Yida and Ph.D. graduate Chen Erkai extended sincere gratitude to their teachers on behalf of all graduates. SJTU alumnus Ren Guanghui delivered a speech with great passion. Leaders of the school, departments and offices, teacher representatives, and graduate representatives attended the Commencement. The ceremony was held by Xu Xuemin, Vice President and member of the Party Committee of SJTU.
The graduation season in 2020 is unusual. An unexpected epidemic has caused teachers and students who are supposed to have face-to-face contact in the classroom to complete their teaching and study tasks online. The special situation has prevented most graduates from attending the ceremony in person.
In order to create a special memory shared by SJTUers around the world, the university decided to globally broadcast the special commencement in both Chinese and English. Graduates who are not at the campus can participate in the online live broadcast and can apply to return to the school to attend a ceremony in any year in the future.
"Graduation in this special situation will better cultivate your resilience, with which I believe you can become strong enough to conquer the obstacles lying ahead."
"The world of today is facing severe challenges and need your (graduates of SJTU) talent and resolve more than ever. On behalf of UCLA and APRU, I would like to congratulate you on the achievements that have been made and wish you further success in the future."
Peter Salovey, President of Yale University; Prof. Peter Mathieson, President of the University of Edinburgh; Prof. Tan Eng Chye, President of the National University of Singapore; Mikhail Pogaosyan, President of Moscow Aviation Institute; Prof. Edward Byrne, President of King's College London; Gene Block, President of the University of California, Los Angeles (UCLA) and Chairman of the Pacific Rim Union (APRU); Shojiro Nishio, President of Osaka University; and presidents of many other prestigious foreign universities all sent their video addresses to congratulate Shanghai Jiao Tong University on the global live commencement upon the epidemic.
Then the floor was given to Yang Zhenbin to announce the awarding decision of Bachelor's, Master's and Doctor's degrees. During 125 years of development, Shanghai Jiao Tong University has been the cradle for over 300,000 graduates and this year witnessed another 10,000 or more excellent students leaving their Alma Mater to become part of the efforts for the state's undertakings across the motherland. Due to the epidemic, the Commencement ceremonies for both undergraduates and postgraduates were held together, where 3319 undergraduates, 5951 postgraduates and 1033 doctoral students were granted degrees.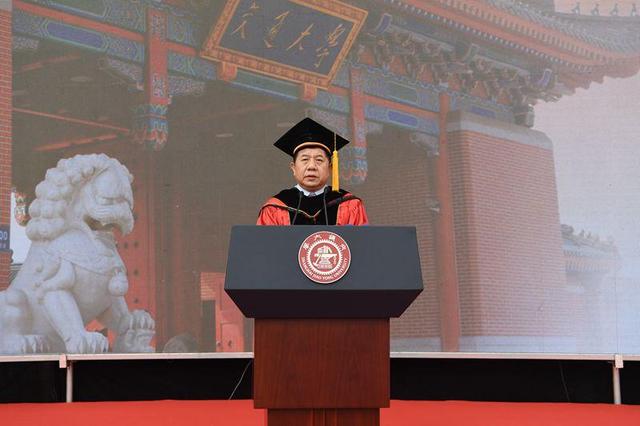 President Lin Zhongqin delivered a speech "Bear responsibility in mind and keep forging ahead" with an emphasis on responsibility-the fundamental quality for each SJTU graduate. The message he sent bore similar hopes to Secretary Yang Zhenbin's message, both of which were of enduring benefits to the graduates' future development. His sincere words "keep learning, bring innovation and carry forward the spirit of team cooperation" carried his best wishes to every graduate present, hoping that they could respond actively to the call of the times regardless of all obstacles ahead and live up to the promise of their Alma Mater to make their share of contributions to the country.
Huang Yida, B.S. graduate from the School of Biomedical Engineering, returned to SJTU for the Commencement ceremony after studying at home for 6 months. On behalf of all 2020 SJTU graduates, he extended sincere gratitude to SJTU. He also mentioned SJTU's effort in fighting against the pandemic: SJTU sent out 570 medical staff to aid Hubei Province; the team led by Prof. Gu Hongchen and Researcher Xu Hong from the School of Biomedical Engineering provided technical support for the first COVID-19 Detection Kit in China. He said that these are a clear sign that China is a country of quick action, that his specialty is of great use to human health and that more hard nuts lying ahead for us to crack. Thus, he was even more determined to steadily march towards his dream of "striving for the welfare of all mankind".
Amid the enchanting chorus of the school song and the great passion resonating in each graduate's heart, Shanghai Jiao Tong University Commencement 2020 came to a successful end.