【China Daily】Jiading medics head to support Wuhan
February 10, 2020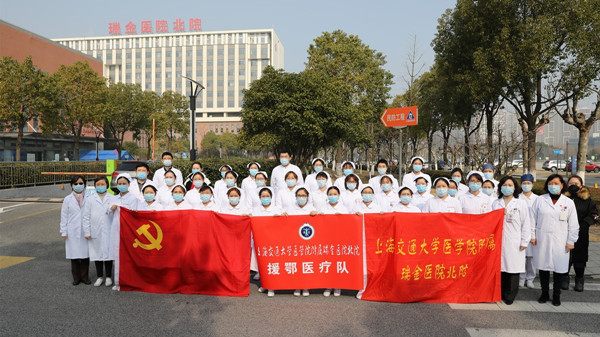 A delegation of medical workers from the northern branch of Ruijin Hospital affiliated with the Shanghai Jiao Tong University School of Medicine heads to Wuhan, Hubei province on Feb 8. [Photo/jiading.gov.cn]
Jiading district, Shanghai sent 31 medical workers from the northern branch of Ruijin Hospital affiliated with the Shanghai Jiao Tong University School of Medicine to Wuhan, Hubei province on Feb 8 to help fight the novel coronavirus pneumonia (NCP) epidemic.
105 staff from the main hospital and branch hospitals also joined the team.
Xu Wenli, head nurse of the hospital's neurology and neurosurgery wards, who has over 20 years of experience in clinical care, is the team's lead nurse.
"My family and I know that there is no home without a country. I'm a veteran CPC member and have rich experience in clinical care. I should be on the frontlines," Xu said.
Shen Xiaoyun, a nurse at the hospital who originally planned to get married next month, was also on the team. She and her fiancé, a police officer who has been on duty controlling and preventing NCP for the past few days, decided to postpone their wedding.
"I will be back in the spring, when the weather is warmer and the flowers are in bloom. We will have a nice wedding," Shen said to her fiancé in a video call.
The 28-year-old woman has also been trying to assuage her father's worries.
"Just like my father used to try to get me to study hard when I was a child," Shen joked. "I'm now an adult and it's time for me to do my part for my country."