SJTU Held Commencement Ceremony for 2021 Graduates
March 30, 2021 Author:
On March 27, Shanghai Jiao Tong University Commencement for 2021 graduate students was held at the Fok Ying Tung Sports Center, Minhang Campus, with more than 3,400 graduates attending the ceremony. Yang Zhenbin, Secretary of the CPC SJTU Committee, delivered a cordial message; Lin Zhongqin, SJTU president, Deputy Secretary of the CPC SJTU Committee, and CAE academician, gave a wonderful speech; SJTU alumnus Zhu Yingfu, CAE academician, and the chief designer of "Liaoning" ship, encouraged the students with an inspiring speech. University leaders including Huang Zhen, Zhang Ansheng, Gu Feng, Wang Weiming, as well as leaders of various schools and departments, faculty representatives, and graduate representatives attended the ceremony. The graduation ceremony was presided over by Xu Xuemin, Vice President and member of the CPC SJTU Standing Committee.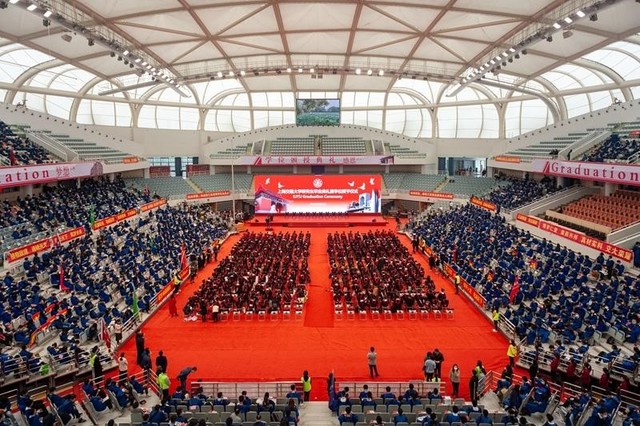 President Lin Zhongqin gave a speech titled "Graduation from SJTU Means Shouldering More Responsibilities", in which he called on to the graduates: "I hope you all have the courage to be pioneers and step into the society with high pursuits and ambitions; I hope you all would not hesitate to rush to the frontline and go to distant places with a sense of responsibility and pragmaticality; I hope you all stick to your initial aspirations, always keep in mind why you set out, and make your own contribution to the times!"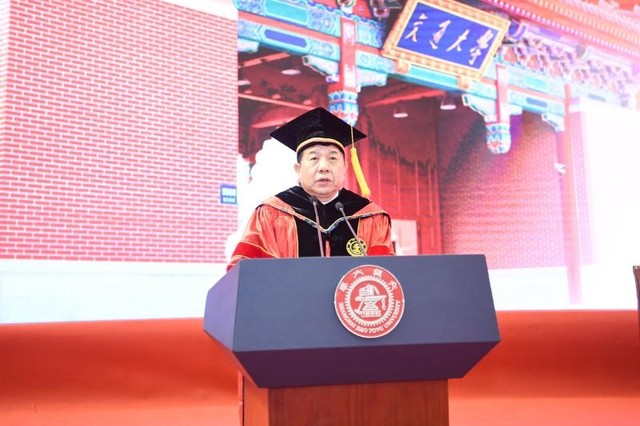 Zhu Yingfu, the chief designer of China's first aircraft carrier "Liaoning", CAE academician, winner of SJTU "Outstanding Alumni with Extraordinary Achievement Award", 1963 undergraduate and 1966 graduate alumni, made a keynote speech for the faculty and students. He recalled the old days of studying at this university and mentioned that whatever kind of work one would be engaged in, he must stand loneliness, endure setbacks, and bear responsibility.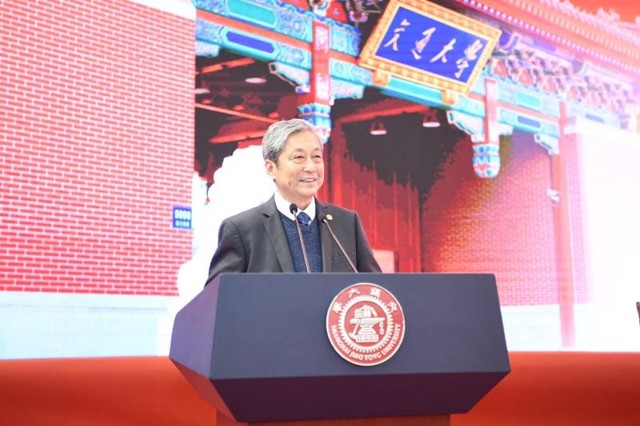 Wang Weiming, Vice President and member of the CPC SJTU Standing Committee, announced the list of 2021 graduate students honored for taking up a career in key units and grassroot units of critical fields in the central and western regions, or joining the army.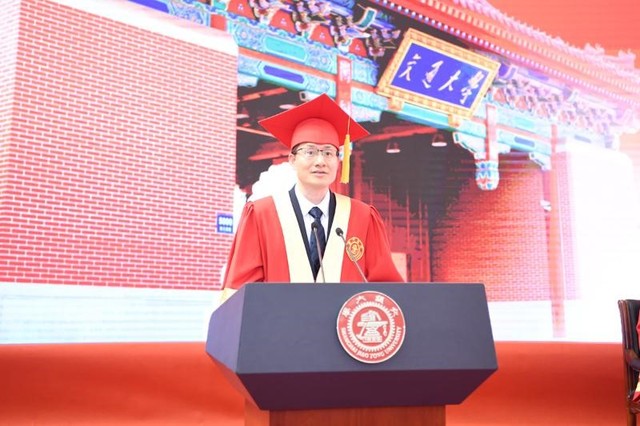 A total of 15 doctoral dissertations were selected as SJTU Outstanding Doctoral Thesis, and another 30 were nominated. These papers cover a variety of research fields and focus on the forefront of science. Yang Zhenbin and Lin Zhongqin jointly presented the awards to the winners.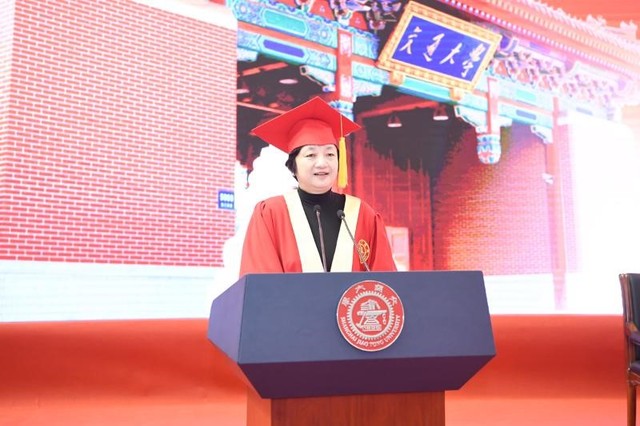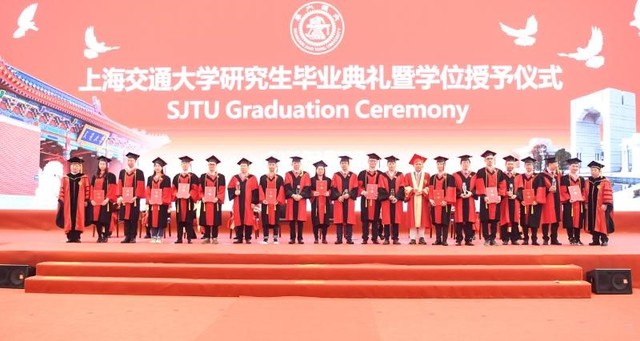 Afterwards, the doctoral and master's degree awarding ceremony was held. SJTU leaders conferred degrees to doctoral and master's graduates respectively.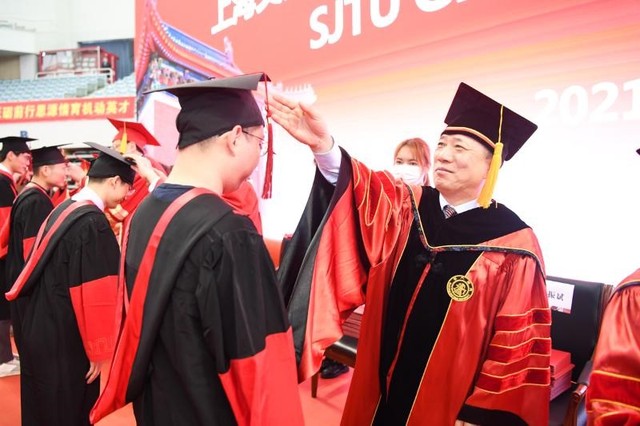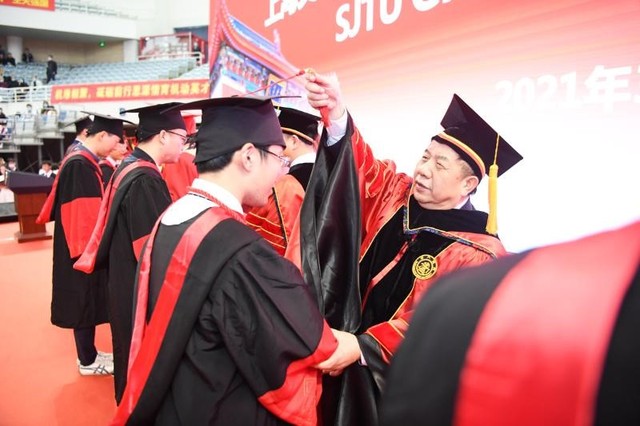 In the speech session, graduate representatives shared their experience and feelings with the faculty and students, encouraging everyone to respond to the needs of the times and of the country, always be prepared, embrace their dreams and fulfill their achievements. They call on graduates to keep in mind the school motto of "When you drink water, never shall you forget its source; love your motherland and add credit to your alma mater", be demand-oriented and strive to build a powerful nation of science and technology throughout our life.
At the ceremony, graduate students presented a creative gift to their alma mater: a winding line drawing based on the employment prospects of the 2021 graduates. The school, in turn, also prepared a series of souvenirs for the graduates. In addition, as SJTU is about to celebrate its 125th anniversary, the school has also prepared a school birthday cake for all graduates. Yang Zhenbin and Lin Zhongqin presented the graduation souvenirs to the graduates on behalf of SJTU.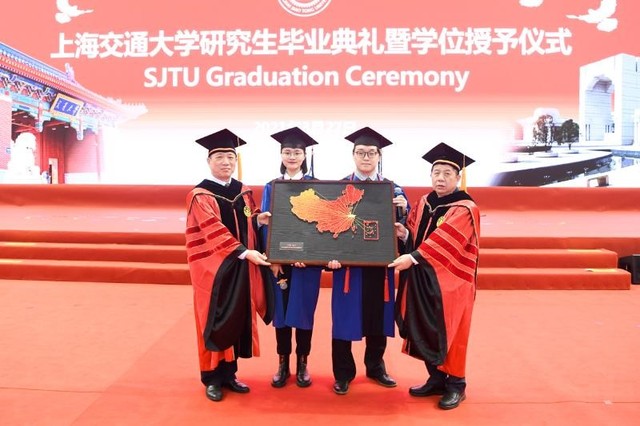 Finally, Yang Zhenbin, Secretary of the CPC SJTU Committee, addressed the graduates, and gave three sentences as his wishes. "First, the times are a person's greatest fortune, and I hope that everyone will ride the wind and waves in the tide of history. Second, the society is a person's biggest teacher, and I hope everyone will continue lifelong learning through practice. Third, the motherland is a person's strongest support, and I hope that everyone will dedicate their youth to national rejuvenation full of passion and without regret."
SJTU faculty choir presented the song "Me and My Motherland", encouraging graduates to march forward together with the country. The graduation ceremony ended in the chorus of "Shanghai Jiao Tong University School Song".