JI Celebrates 15th Anniversary
The University of Michigan-Shanghai Jiao Tong University Joint Institute (UM-SJTU JI, JI hereafter) celebrated the 15th anniversary on April 10, on occasion of the 125th anniversary of SJTU. The 15th Anniversary Ceremony of UM-SJTU Joint Institute was held at two in the afternoon on the ground floor of Long Bin Building.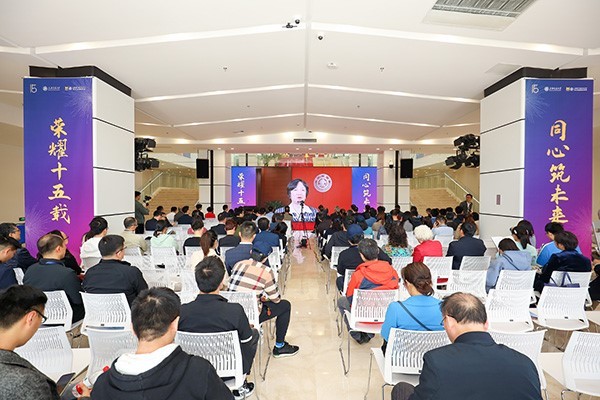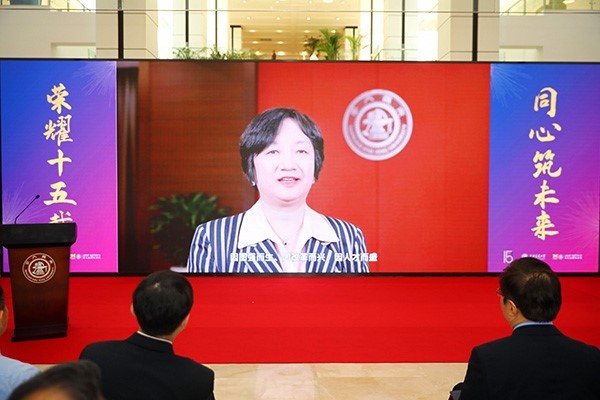 SJTU Vice President Xuemin Xu sent her congratulatory message via video. She said JI has made satisfactory and outstanding achievements over the past 15 years thanks to the strong support of the two founding universities from the United States and China as well as the joint efforts of all faculty and staff members of the joint institute. In May of last year, the Ministry of Education of China issued "Guidelines for Building up Institutes of Future Technologies". JI won the fierce internal competition of SJTU and became the representative of the university to join the ministry's institute-of-future-technology program. This represents a high affirmation of past achievements and an important historical opportunity of future development for the joint institute. JI should further reform its talent training and stick to the international development strategy in the future, said Xu.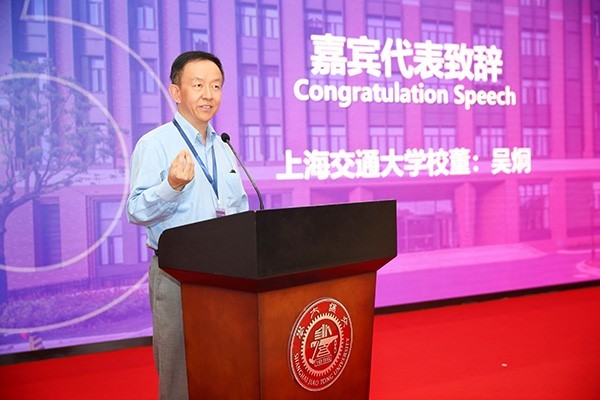 Chairman of H&F Fund Management Group John Wu, director of the SJTU Board and co-chair of the JI Development Advisory Board (DAB hereafter), made a congratulatory speech on behalf of the board and donors. He said a great and thriving enterprise like JI often originated from the vision and dream of one person or a few. Fifteen years ago, Professor Jun Ni founded the joint institute co-supported by SJTU and UM with a purpose of learning from the West and introducing advanced system of higher education into China. Outstanding results were achieved after years of development. As a DAB member, he was proud of JI's development and wished JI a brighter future, said Wu.

JI also received congratulatory videos from international partners including the University of Michigan, Cornell University, Columbia University, University of California Irvine, Royal Institute of Technology, University of Warwick, Karlsruhe Institute of Technology, Instituto Tecnológico de Buenos Aires, KU Leuven, Université de Technologie de Troyes, Ritsumeikan University.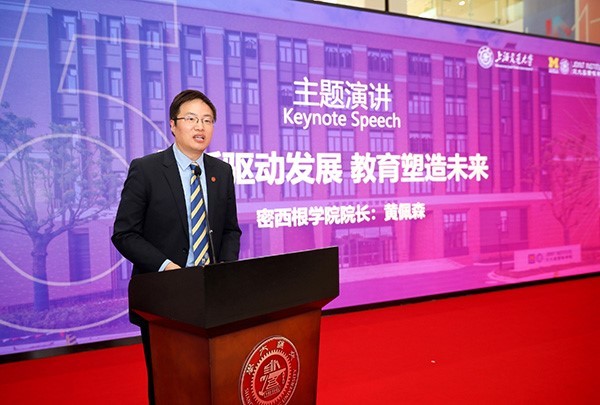 In his keynote speech titled "Development Driven by Innovation, Future Shaped by Education", Dean Peisen Huang welcomed the attendants of the event and expressed gratitude to all people who contributed to the development of the joint institute. He reviewed the past development and achievements of JI and proposed its future development strategy. JI will stick to the strategy focusing on internationalisation, talent development, interdisciplinarity and cultural leadership, as it strives to become a scientific palace with a collection of masters, a paradise of innovation with interdisciplinary education, a shrine of thought led by unique culture, and a cradle of talent fostering innovative leaders of future science and technologies, he said.
In the awarding session, tokens of appreciation were presented to those who contributed to the development of the joint institute.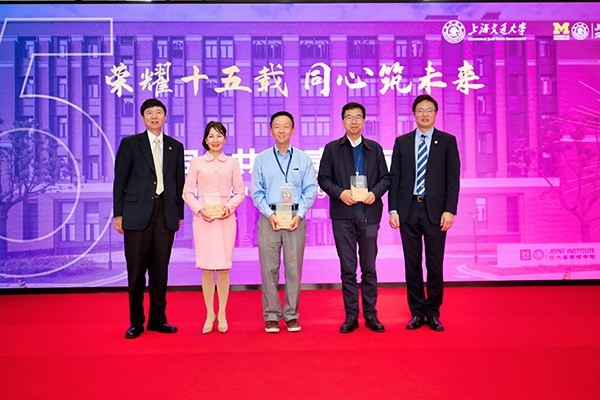 Peisen Huang and JI Honorary Dean Jun Ni presented certificates of appreciation to DAB members at the ceremony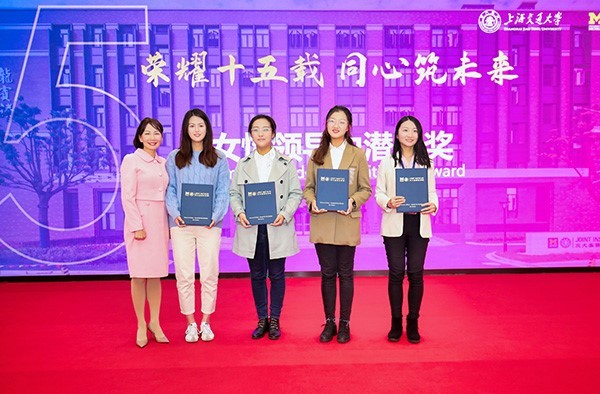 Ctrip.com CEO, DAB Co-chair Jane Sun presented Women's Leadership Initiative Award to first batch of JI winners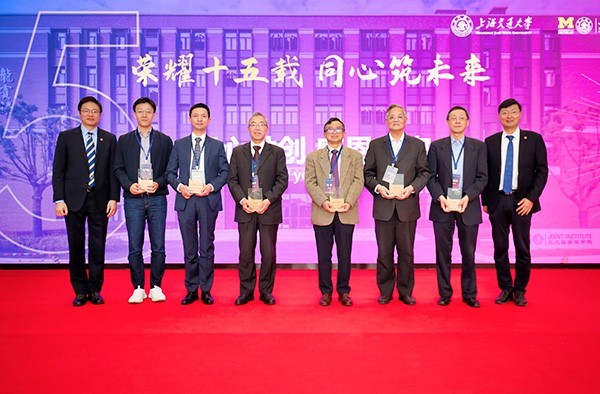 Peisen Huang and JI Associate Dean for Research Ming Yang presented certificates of appreciation to donors, alumni, organization and enterprise representatives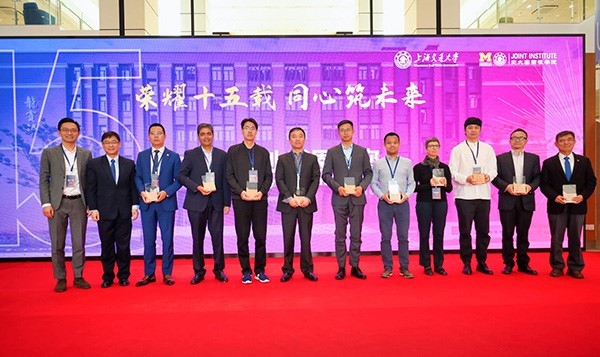 JI Associate Dean for Academic Affairs Chien-Pin Chen and Associate Dean for Undergraduate Education Gang Zheng presented certificates of appreciation to representatives of JI Center for Entrepreneurship partner enterprises
Peisen Huang and Ming Yang presented certificates of appreciation to representatives of parent volunteers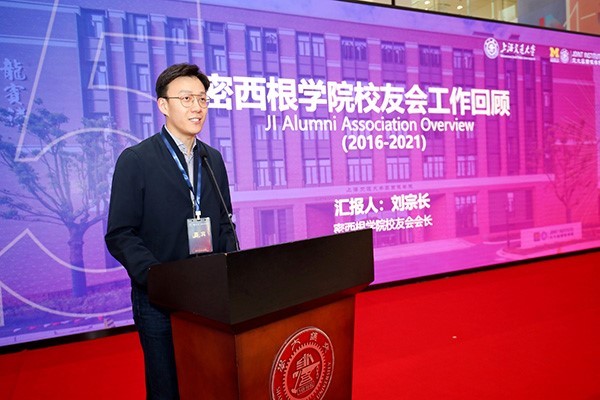 In his speech, JI Alumni Association President and Class of 2012 alumnus Zongchang Liu reviewed the past work of the association since its establishment in 2016. To date, total number of JI alumni has reached over 3100. With the rapid development of JI, alumni have spread all over the world and many have become academic elites and leading entrepreneurs. Driven by the mission of helping the development of JI and the demand of serving the development of alumni, the JI Alumni Association serves to provide mutual support channels and platforms of exchange and cooperation among alumni, and create a sustainable and beneficial alumni ecology.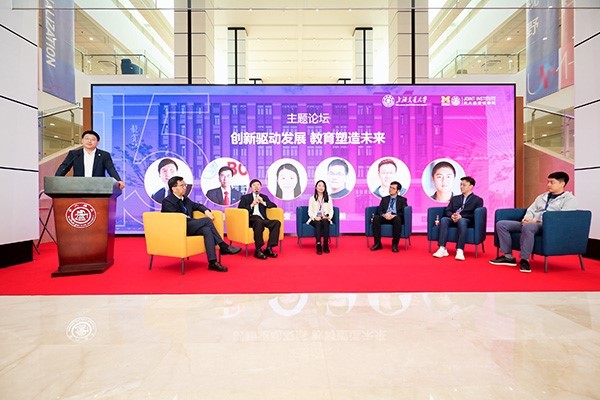 A panel discussion themed "Education Shapes Future" was held afterwards with panelists including Jun Ni, Bosch (China) Investment Ltd. President and DAB member Yudong Chen, Class of 2010 alumna Ying Wang, Class of 2011 alumnus Hongyi Xin, Zongchang Liu, Class of 2013 alumnus Xiang Liu. They discussed topics such as future development of JI, prospect of future technologies and future talent training. Jun Ni used ten English words starting with C to express his wishes for the JI alumni who are expected to be outstanding talents: curiosity, critical thinking, competence, cross-boundary, courage, confidence, compassion, caring, communication and collaboration. He hoped alumni would often come back to visit their Alma Mater.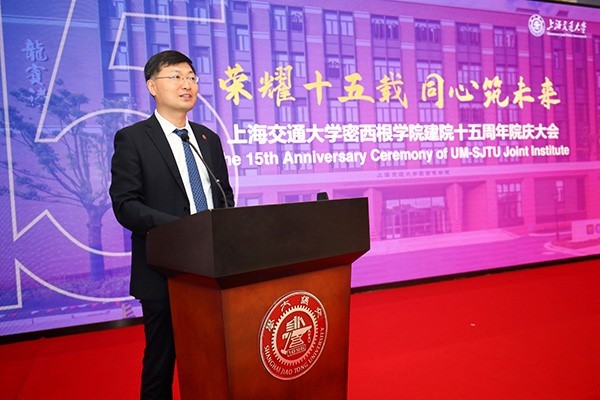 In his concluding speech, Ming Yang said the 15th anniversary is a very good time to unite people, gather wisdom and form consensus. It is also very meaningful as people celebrate the past and look into the future together. This year is the opening year of China's 14th Five-Year Plan, JI should follow the guidelines highlighted in the recent speeches of State leader President Xi Jinping and documents of the National Education Conference. Joint efforts of all people are needed to build up a bright future for the joint institute, he said.