IEID 2021 Intelligent Manufacturing Technology & Industry Session successfully held by School of Mechanical Engineering
April 28,2022
Sponsored by Chinese Academy of Engineering (CAE) and organized by School of Mechanical Engineering, Shanghai Jiao Tong University, the 2021 International Forum on Innovation and Emerging Industries Development (IEID2021) – Intelligent Manufacturing Technology & Industry Session was successfully held on 30th March. The conference was held online due to the Covid-19, and broadcast on live at home and abroad through Bilibili and CKCEST platforms, which attracted 30,000 people to watch in real time.
ZHONG Zhihua, Vice President of Chinese Academy of Engineering. ZHANG Hongtao, Chief Engineer of Shanghai Municipal Commission of Economy and Information. HUANG Hong, Deputy Director of Shanghai Administration of Foreign Experts Affairs, LIN Zhongqin, President of Shanghai Jiao Tong University were at presence and gave the opening speech.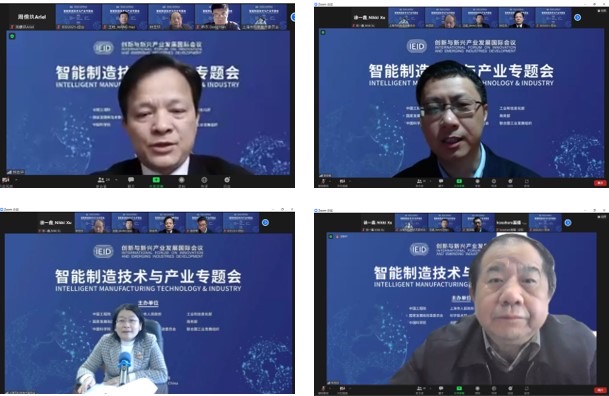 Focusing on the theme of Intelligent Manufacturing, High-end Equipment Manufacturing, Digital Twin,etc., guests from JITRI, Sioux Technologies, Contemporary Amperex Technology Co.,Ltd., School of Mechanical Engineering at SJTU, Shanghai VolksWagen, Lenovo Group, Academician of German National Academy of Science and Engineering, Politecnico di Milano, Fraunhofer IPA were all invited and made speeches at the conference.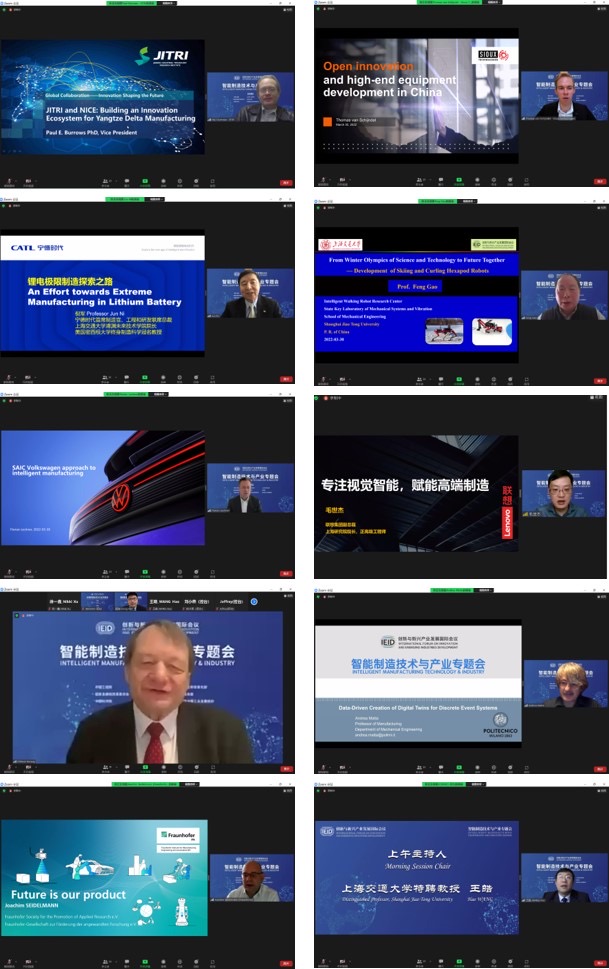 Following the speeches, all speakers and invited guests joined in the Panel Discussion together. Aiming at in-depth exchanges on major innovations, disruptive technologies and emerging industries development in the field of Battery Manufacturing, Future Robots, Industry 4.0, Industrial Metaverse Technology and Digital Twin, etc.
School of Mechanical Engineering focuses on leading edge in the field of intelligent manufacturing. The School has been constantly developing the innovative system of "root in technical innovation, center on industrial application, start with model development", and has made new steps in the incubation, transformation and industrialization of scientific and technological advances. Since 2015, the School took the lead in establishing an intelligent manufacturing base in Lingang Area, created a new research institution integrating the development of technology research and the transformation of achievements, and gathered multi-level talents at home and abroad, which promotes industrial technology reform and optimization, fundamental shift of manufacturing industry model and business form, and the exploration of future industrial development strategies except intelligent manufacturing.
The Intelligent Manufacturing Technology & Industry Session, which has been successfully held for five sessions in China and Germany, is hosted by the Department of Mechanical and Vehicle Engineering of the Chinese Academy of Engineering, and organized by the School of Mechanical Engineering of Shanghai Jiao Tong University. The session aims to provide new insights for technological innovation of intelligent manufacturing and industrial development, and generate new ideas for the intelligent transformation of the global manufacturing industry, and further promote global technological innovation and the development of emerging industries.