JI dual-degree and GDP students celebrate graduation from UM
Dual-bachelor-degree-program and Global-Degree-Pathway-program students of the University of Michigan-Shanghai Jiao Tong University Joint Institute (UM-SJTU JI, JI hereafter) celebrated their graduation from the University of Michigan recently, receiving congratulations from both sides of the Pacific Ocean.
Joanna Millunchick delivers a speech to students.
Mingyan Liu delivers a speech to students.
Joanna Millunchick, associate dean for undergraduate education of UM College of Engineering, kicked off the celebratory event by opening up her arms while shouting "Congratulations". A congratulatory and blessing message by the UM college's Chair of Electrical and Computer Engineering Mingyan Liu followed. She quoted a famous verse by Chinese poet Zhimo Xu, "I walked gently, just as I came gently, I waved my sleeve and didn't take away a cloud", to express the feeling of farewell.
Ming Yang greets the graduates via video message.
Gang Zheng extends online congratulations to students.
In his congratulatory video message, JI Acting Dean Ming Yang encouraged the students to apply the tenacity shown in dealing with the pandemic to their future study and work, to make unremitting efforts while facing the challenges, and complete their remaining study of Shanghai Jiao Tong University in the coming semester.
JI Associate Dean for Undergraduate Education Gang Zheng made an online speech. He said that he was proud of the students for their brave endeavors to fulfill their dreams under the special circumstances, and regretted that they were not able to return home to graduate. He hoped that the students could often come back to visit JI after the pandemic.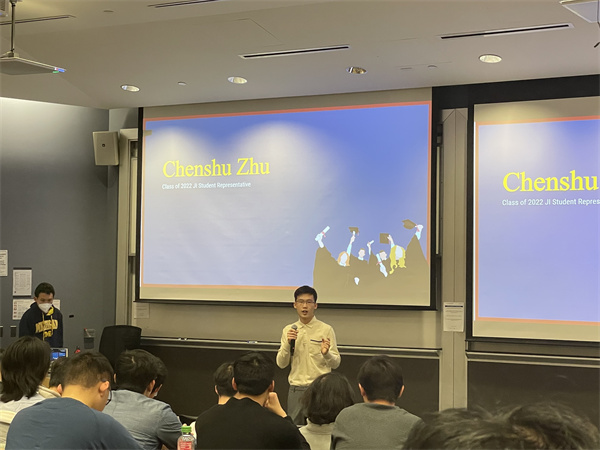 Chenshu Zhu makes a speech on behalf of the graduates.
JI Class of 2022 student Chenshu Zhu who is expected to receive both a bachelor degree in Electrical and Computer Engineering from JI and a bachelor degree in Computer Science from UM made a speech on behalf of the graduates. Over the past two years, the unprecedented difficulties and challenges brought to the students have made the Class of 2022 special. Such experiences have made graduation from UM more worthy of pride. The various opportunities created by JI for students will be appreciated, and the identity of a JI student will be a most proud label for a lifetime, he said.
Students at the celebratory event
JI faculty, alumni, and parents of students also sent congratulatory and blessing video messages to the event.
Group photo of JI dual-degree students at the UM graduation ceremony
Soon after the celebratory event, the 2022 Spring Graduation Ceremony of UM for 14000 graduating students of the university was held at the Crisler Center Stadium. JI students also attended the graduation ceremony of the UM College of Engineering held in the stadium in the afternoon.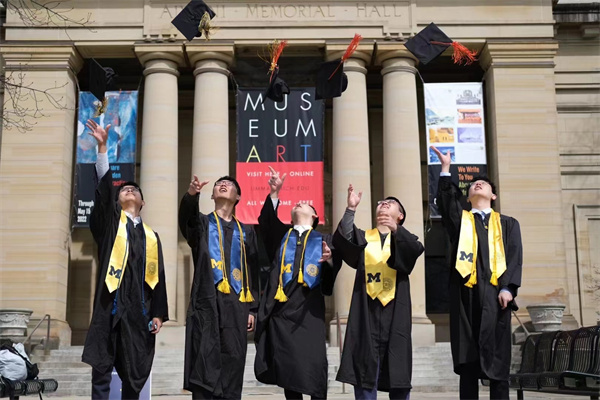 JI dual-degree students take photos after the UM graduation ceremony.