JI holds 2022 commencement ceremony
August 8,2022
The 2022 University of Michigan-Shanghai Jiao Tong University Joint Institute (UM-SJTU JI,JI hereafter) Commencement Ceremony was held at Long Bin Building of the SJTU campus on August 5. The event was also held simultaneously online for students and their relatives who were not able to be attend in-person.
SJTU Vice President Xuemin Xu congratulated Class of 2022 students for completing their studies. "Four years ago, you came to Shanghai Jiao Tong University and opened a new chapter of your life. In the past years, profound changes have occurred in the world because of the impact of a series of global events. Not only the society has gone through fundamental changes, science and technology have also witnessed rapid growth. However, none of them can compare to what you have experienced of living through amidst the COVID-19 pandemic, an unprecedented challenge for all mankind," said the vice president who also expressed her expectation that the students will make a difference in your career, fighting the future with a broader vision and a dedication to the service of humanity; make real changes in life, always intrigued and always seek answers of truth hidden; and make contributions to the society, always pursue excellence and stand up to the challenges.
UM Assistant Vice Provost for International Engagement Amy Carey delivered the speech online from Ann Arbor. She praised the perseverance of the students despite the unprecedented obstacles including the remote online learning in a different time zone at a time when the world was still learning how to operate in the pandemic mode. "We hope you will take with you what you learned from your classes, team projects with your peers, and research with faculty as you advance in your careers. We know you are ready to go forth and tackle the challenges our world is facing today, and we know you will continue to make us proud. We count on you to help us to continue to bridge our two cultures, to find positive common ground that will help us grow together towards positive progress for our planet," she said.
JI Acting Dean Ming Yang shared placement of the new graduates in his congratulatory speech. According to the latest statistics. Ninety percent of the Class of 2022 undergraduate students will pursue graduate studies upon graduation, including 210 students going overseas to study at top universities such as Massachusetts Institute of Technology, Stanford University, University of California – Berkley. University of Michigan, Carnegie Mellon University. Students who choose to enter the job market are all employed by renowned enterprises such as SAIC, Huawei, Tesla, Siemens. Job placement rate of the master and doctoral graduates reached 100 percent. The graduates are well-placed in top universities such as Harvard University, Carnegie Mellon University and University of Pennsylvania, and renowned enterprises such as AVIC, Shanghai Stock Exchange, Huawei, NVIDIA. "As a generation who lived the past few years at a historic turning point, you bravely took over the challenges given by the era and shaped today's joyous moments with your extraordinary achievement," said Yang who hoped the students will be lifelong learners, embrace the difficulties and challenges, and cherish patriotism and honor of the university.
JI Class of 2013 alumnus Guoxing Li, Co-founder and CEO of Moka, delivered a keynote speech sharing his entrepreneurial stories and growing-up lessons. "Follow your heart, take the leap" and "Setbacks are the best gift" are the two advices he offered to the younger fellow students. "I sincerely hope that each of you can find the fire in your heart and take a firm step forward. The road ahead will be full of ups and downs, and I hope you always stay optimistic. See setbacks as opportunities to hone yourself. I believe that with the spirit of JI and the spirit of Shanghai Jiao Tong University, you will definitely contribute significant value to the society," said Li.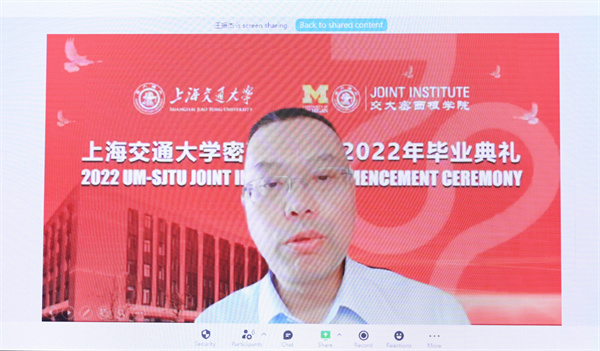 In his online speech on behalf of parents, parent representative Zhenjie Wang expressed gratitude to JI for offering the students four fulfilling years. "Graduation from university also means the kickoff of a new stage of life. I hope the students can constantly put their outstanding talents into full play, upgrade their international vision, innovative consciousness and comprehensive capabilities, and develop well in the fields of their choice," he said.
Yuzhou Zhai, valedictorian of the 2022 bachelor degree graduates, said his JI journey over the past four years was like a roller coaster ride of highs and lows, during which he emerged with a deeper understanding of himself and became more determined and perseverant. "This place has witnessed countless efforts and growth of us, and the profound connection we developed here is also beyond compare. We arrived empty-handed, but we're now leaving with a suitcase full of inspiring tales of triumph."
Yifan Wu made a speech on behalf of the doctoral and master degree graduates. While reviewing his experiences over the past few years, he said he was attracted to JI after taking his bachelor journey in China and master journey in Europe, thanks to its international and active atmosphere and the passion and determination of the direct supervisor on the field that suit his interest. "My supervisor has provided me every guidance he could offer on study, research and even life planning. He also educated us with important values as scientific researchers and taught us to always identify the basic scientific questions, so that we can make revolutionary changes to the field," said Wu.
On behalf of international students, Ming Xian Lim from Malaysia expressed his appreciation for the JI journey over the past four years, "This whole journey has not only provided me with knowledge and skills. But it has also forged my mental strength and opened up my eyes to the more important things in life."
Ming Yang takes photo with four students appointed as Class Directors for the new graduates.
A gift from two representatives of the Class of 2022 graduates was presented to Ming Yang on the stage. The gift, a pixel painting of Long Bin Building made by all graduates, serves to express appreciation and attachment to JI accompanying them through the past four years.
Degree awarding ceremony was held afterwards. The onsite Class of 2022 graduates in personalized academical dresses had their tassels turned and received their degree certificates under the witness of hundreds of online and offline audiences.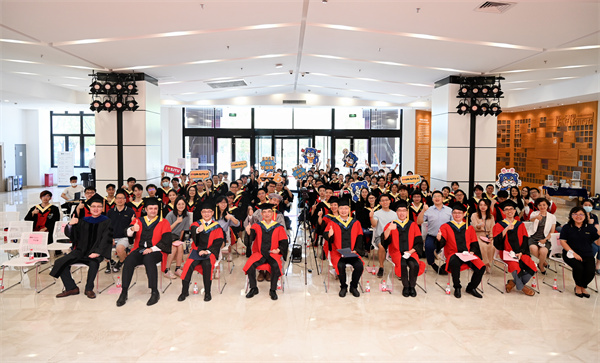 Group photo of attendees