KEDGE Business School Delegation Conducts an In-depth Visiting with SJTU
April 8,2023
On March 13, 2023, Shanghai Jiao Tong University(SJTU) was honored to welcome a delegation from KEDGE Business School in France, led by Alexandre de Navailles, the President of the University. The delegation also included Santiago Garcia Rodriguez, the Vice President for International Development, Jean-Francois Vergnaud, the Vice Dean of the China Branch, and Nicolas Guillaume Petit, the Academic Director of the China Branch. Xuemin XU, Vice President of Shanghai Jiao Tong University; Peng LUO, Director of International Affairs Division; Weimin ZHANG, Dean of the USC-SJTU Institute of Cultural and Creative Industry (ICCI), and Frédéric Toumazet, French Dean of the SJTU- ParisTech Elite Institute of Technology (SPEIT), as well as relevant personnel of the two schools' cooperative projects, attended the meeting at the Minhang campus.
During the meeting, Xuemin XU warmly welcomed the delegation and highlighted the long-standing cooperation between Shanghai Jiao Tong University and KEDGE Business School .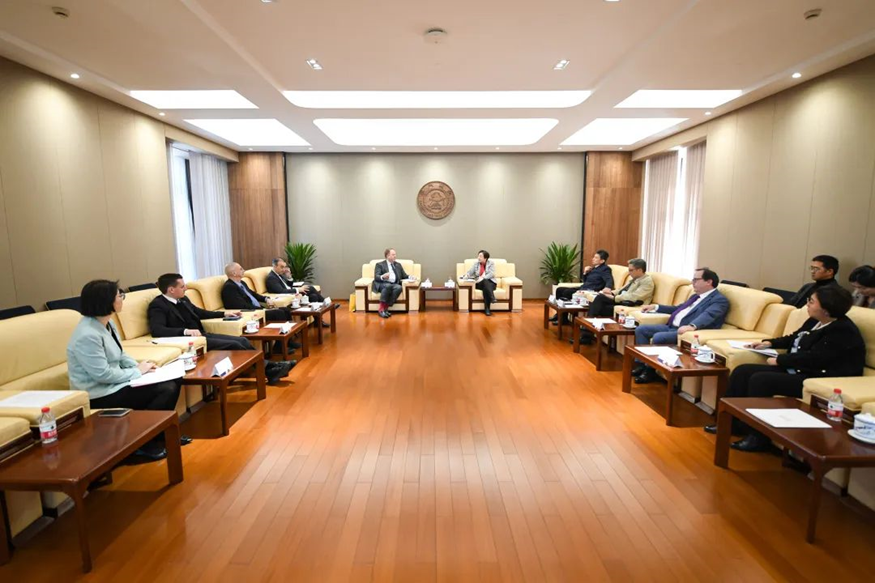 Alexandre introduced the development situation and high-quality education resources of KEDGE Business School, congratulated Shanghai Jiao Tong University on its reputation in international education over the past 20 years, and expressed the expectation to continue to deepen cooperation with Shanghai Jiao Tong University.
The leaders and attendees of the two schools exchanged views on the upcoming 20th-anniversary series of cooperative activities and looking forward to exploring new areas of cooperation.
Following the meeting, the delegation visited the Student Innovation Center of Shanghai Jiao Tong University and ICCI. They visited the CG Creative and Technology Lab, the AI Film Frontier Technology Research Center, and the AI Music and Sound Studio.
After the visit, the KEDGE Business School delegation and the leaders and cooperative project teachers of the ICCI held a deep discussion on the situation of the cooperative projects and reached an agreement on future development.
Translation: Hongwei PENG/ Linfei WU
Editor on Duty: Diwei Chen
Responsible Editor: Qianqian Jiang, Yuhe Fu
Source: USC-SJTU Institute of Cultural and Creative Industry