SJTU Celebrates 127th Anniversary with 18 Exciting Activities
April 15,2023
On April 8th, Shanghai Jiao Tong University (SJTU) celebrated its 127th anniversary since its predecessor, Nanyang Mission College, was founded by Sheng Xuanhuai in 1896. The university organized 18 exciting activities, focusing on three sessions: to learn, enjoy, and love at SJTU. The event was a huge success, with students, faculty members, and alums participating and having a great time.
The SJTUer Festival: A Cultural Carnival for Creative Youth
SJTUers from all over the world gathered for the annual SJTUer Festival this year, with the theme of "Spring Tide". The festival featured a vibrant themed parade, exciting stage performances, and inspiring booth displays, drawing in a diverse crowd of teachers, students, and alumni.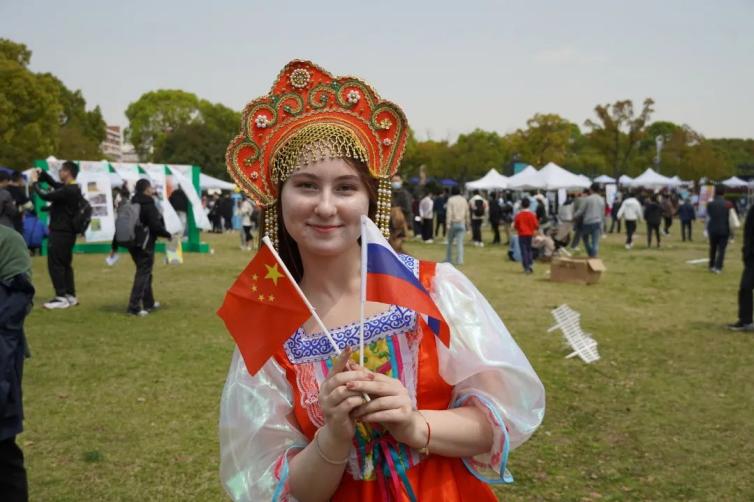 Zhiyuan Lake Hosts Lawn Music Festival for SJTU Anniversary
On SJTU's 127th anniversary, the Campus Music Festival returned with a bang, featuring beautiful songs to celebrate the spring. Alumni Choruses from Beijing, Shanghai, Guangdong, and Shenzhen gathered at Zhiyuan Lake for an unforgettable audio-visual experience.
The "Alumni Cup" Football Match: Building Friendship and Passion
The long-awaited "Alumni Cup" football match returned with great excitement, as teams from more than 20 colleges competed fiercely. "We communicate through football and recall the deep bonds in the youth. We express our heartfelt feelings in the match and chase the dream of never giving up through competition," said a competitor.
SJTUers' Children Enjoyed Painting
Children of the SJTUers had a fun time drawing in a maze filled with elements of the university. They experienced the charm of intangible cultural heritage amidst the fragrance of herbs, painted their perception of SJTU in spring on postcards, and played at the botanical garden.
Dragon Boat and Rowing Experience on the Tamsui River
SJTUers experienced the excitement of dragon boating and rowing on the Tamsui River. Guided by the coach and steersman, SJTUers paddled methodically and moved steadily along the scenic river.
The First SJTU University History Drama Competition Held
Thirteen teams comprising nearly 400 student performers from 32 departments participated in the first-ever SJTU History Drama Competition — "Li Shutong Cup". They perform the original stage drama, which pictures the school history of SJTU. Through the lens of youthful vigor, the performers passionately presented the rich and majestic 127-year history of SJTU.
Other Activities
Source: Shanghai Jiao Tong University
Shanghai Jiao Tong University Alumni
Translated by Zhu Yufei
Proofread by Zhao Xiaojing
Editor on Duty: Diwei Chen
Responsible Editor: Qianqian Jiang, Yuhe Fu